Halloween Horror Nights
Every fall, fog is in the air, and Universal Studios Florida welcomes some of the greatest horror chills from the most creative minds at Universal - tranforming the park into a frightful world. Streets appear sinister, screams and mad laughter echo from live entertainment, and Universal's most exhilarating attractions tempt with thrilling escapes.
The screams start 10 September 2020.
Book Halloween Horror Nights Tickets
What is Halloween Horror Nights?
What is Halloween Horror Nights like?
One word: Scary!
Placing you right in the middle of the most chilling moments of horror movie history, HHN is the world's premier Halloween event for a reason, and deserved 11-time winner of Amusement Today's "Best Halloween Event" Golden Ticket Award!
Imagine the streets of Universal Studios Florida twisted into sinister scare zones and swarming with nightmarish creatures…
And you're there, right in the middle of it, lost in a dark and moody atmosphere, surrounded by shadow and never quite sure if your spine is tingling with dread or excitement. Before you know it, you'll be screaming at the top of your lungs!
Petrifying entertainment
Scare Zones, Haunted Houses, live entertainment and a mixture of themed food and drink – all there to make your blood run cold (and your tummy rumble).
Are kids welcome?
There are no restrictions, it all comes down to parental discretion. However, the event isn't suitable for children under the age of 13, as the action can get intense and very real at times.

Halloween Horror Nights Scare Zones
Survive your own horror movie experience
What are the Halloween Horror Nights Scare Zones?
The Scare Zones turn walking down the streets of Universal into a horror movie experience. It's here where you'll meet your worst nightmare, as you're placed in the middle of blood-thirsty zombies, killer clowns with chainsaws, and otherworldly beings ready and waiting to startle you.
Each Scare Zone has a fittingly terrifying theme, evoking the visions of the world's most notorious creators of horror.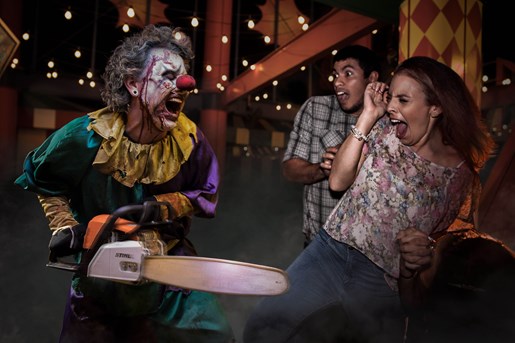 Can the actors touch you?
No, they can't. However, they can follow you as much as they like within their zone.
You may occasionally see a terrifying monster mauling a visitor in the Scare Zones, as scare actors sometimes stage guest attacks on another actor playing a "visitor" in plain clothes.
Don't panic – just play along! And don't forget, you can't touch the actors.
Planning a visit to the Haunted Houses:
Getting the complete Haunted House experience can take a bit of planning, so here are a few tips to get you started.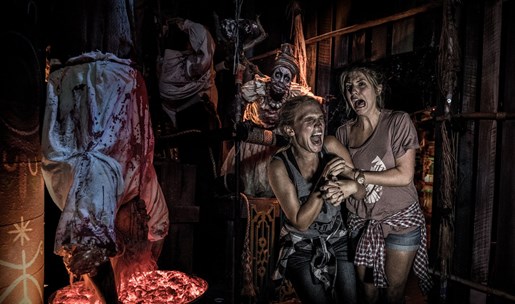 1. Arrive Early
We recommend getting to the park 45 minutes before the official opening time of 6:30 pm. However, to be one of the first people at Halloween Horror Nights, it's best to attend Universal Studios in the afternoon – by 4:45 pm at the very latest.
You're placed in a special holding area until 15 minutes before the doors open for HHN visitors. This gives you extra time before queues have chance to form, but best of all, the holding area takes you out near the Haunted House entrance.
We recommend getting to the park 45 minutes before the official opening time of 6:30 pm.
Please note: You must have a Universal Halloween Horror Nights admission ticket to enter the event.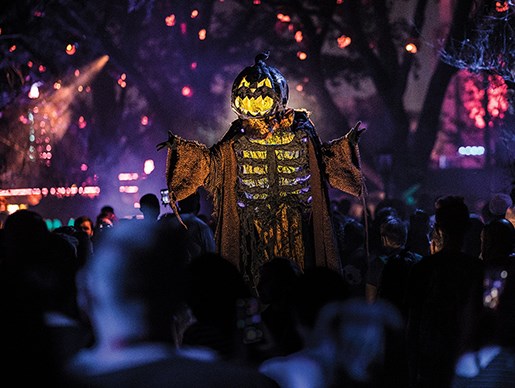 2. Plan ahead!
There are ten houses in total, so it pays off to be prepared if you want to fit everything in in one night. The best time-saving advice is to research the Haunted Houses in advance, picking your favourites and heading their first. What time you have left you can spend in the other houses. If experiencing every house is a priority for you, consider visiting at least two nights.
3. Don't follow the crowd...
As you enter through the front gate, most people will head for the closest Haunted House and form a long queue. Try avoiding this by making your way to the furthest Haunted House first and working your way back to the entrance. Try this at any theme park – it's worked for us.
Halloween Horror Nights has a history of mixing food and drink with its scares. There are tons of bars, stalls and tents where you can find a whole host of exciting food and drink at themed locations throughout the park. With so many places to eat and drink, and with each stall, bar or tent offering something totally different, we recommend picking your favourites beforehand.
Whether you're looking to taste the renowned Pizza Fries or Twister Tasters, or an alcoholic beverage to calm your nerves, the food and drink at HHN is an experience in itself and one you don't want to miss out on.
When to visit Halloween Horror Nights Orlando
Unlike most other theme park events that generally gain attraction for one night or a particular weekend, HHN brings a huge crowd every day. The hype around the event means that there will always be a crowd, there is no "dead" day at Halloween Horror Nights. It's almost impossible to see everything in one night without upgrading your ticket, but Wednesday is the quietest night with the smallest queues.
To help you plan your night effectively, here are the quietest and busiest days.
Recommended days
September: 6, 7, 8, 12, 15, 18, 19, 22, 25, 26
October: 2, 3, 9, 10, 17
Medium crowd days
September: 13, 14, 20, 21, 29
October: 4, 6, 13, 21, 23, 24
Most crowded days
September: 27, 28
October: 5, 11, 12, 18, 19, 20, 25, 26, 27, 29, 30, 31
November: 1, 2
Looking for Halloween Horror Nights Tickets?
When do Halloween Horror Nights tickets go on sale?
The event will run on select nights from 10 September to 31 October 2020, so stay tuned to find out when tickets go on sale.
Does Halloween Horror Nights sell out?
Yes, Halloween Horror Nights is extremely popular and some nights do sell out, so please make sure you book early!
Book Halloween Horror Nights Tickets now!
*WARNING: Event may be too intense for young children and is not recommended for children under the age of 13.
Halloween Horror Nights is a separately ticketed event. Event occurs rain or shine. No rain checks, returns or refunds. Prices, dates, times, attractions and entertainment subject to availability and may change without notice. Free self-parking after 6 pm and Universal Cinemark Matinee Free Parking Program are not valid for Halloween Horror Nights event nights. Other restrictions may apply. Universal elements and all related indicia TM & © 2020 Universal Studios. All rights reserved.
Halloween Horror Nights Facts
Halloween Horror Nights Opening Times
The event usually takes place from 6.30pm to 1 - 2am but these hours can vary.
Rides Open During Halloween Horror Nights
Select rides and attractions will be open during the event – check our Halloween Horror Nights ticket page for updates on this year's schedule.
Regular Parking at Universal Studios
Universal Orlando Resort has an enclosed parking garage with travelators, escalators and lifts.
Parking Tip
You are welcome to leave the car park and return the same day without paying again – just make sure you keep your parking ticket with you as you will need to show it at the toll plaza when you re-enter.
Other important info
Bringing your own food is not allowed. However, there will be plenty of spooky-licious snacks and treats available to buy in the park!
Top Tip 1

You must be over 21 to drink alcohol, so don't forget to bring your ID.
Top Tip 2

The best place to grab a bite to eat is Universal CityWalk– the eateries will be far less crowded than at Halloween Horror Nights. You even get FREE entry to some CityWalk clubs!#
Am I allowed to wear costumes?
No masks or costumes allowed! Although Halloween Horror Nights is a Halloween event, dressing up is forbidden. We don't want any strange men posing as scarers!
How to get to Halloweeen Horror Nights
Address: 6000 Universal Boulevard, Orlando, FL 32819
From I-4 Westbound (Downtown Orlando):
Take I-4 West to exit 74B
Follow the signs to Universal Orlando's main parking garage
From I-4 Eastbound (Disney/Lake Buena Vista/Kissimmee):
Take I-4 East to exit 75A
Follow the signs to Universal Orlando's main parking garage
From Orlando International Airport:
Take SR-528 West 11 miles to I-4 East
Take I-4 East 2 miles to exit 75A
Follow the signs to Universal Orlando's main parking garage
Facilities
Facilities and services at Universal Studios include:
First aid centres
Child/baby swap areas
Locker rental
Restrooms
Nursing facilities & restrooms
Telephones
Kennel boarding
Postal services
Wheelchair and pushchair rental