FloridaTix Discount Codes & Special Offers
Save money on your holiday to Florida with the latest discount codes and special offers from FloridaTix. Our discount ticket vouchers to popular Orlando theme parks, including Walt Disney World Resort and Universal Orlando Resort, guarantee you the lowest online prices.
Gatorland Adults at Kids' Prices
Adults at Kids prices for a limited time only at Gatorland!
Valid from 1st September unitl 30th November 2019.
Free Mission Pack Worth £50
Get a bundle of Star Wars™ merchandise when you buy Disney World tickets.
The Mission Pack includes 4 unique Star Wars™ lanyards, 1 'peel and reveal' board & 2 Star Wars™ Pin Badges.
Valid for 2019, 2020 and 2021 visits.
i-Ride Trolley: 14 Days for 7!
Enjoy a 14 day pass for the price of 7!
Unlimited rides for 14 days on the 2 hop on hop off routes
Valid for limited time only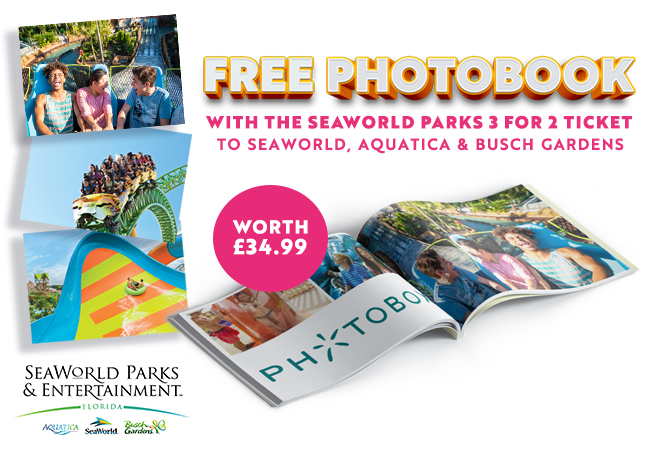 Free Photobook worth £34.99
Capture your great times at Seaworld, Aquatica & Busch Gardens with a FREE personalised photobook from Photobox!
Book the Seaworld, Aquatica & Busch Gardens 3 for 2 Ticket and you'll receive a voucher code for a free photobook. Create your own to keep or give it as a gift!
1 (one) free Photobook voucher code with any booking that contains at least 1 (one) SeaWorld 3 Park for 2 Ticket.
Maximum 1 photobook voucher per booking/per household. Attempts to evade this may result in voucher code being forfeited.
If tickets are cancelled, voucher code will also be cancelled. If code has already been claimed when tickets are cancelled, a fee of £34.99 will be applied to any refunds or an invoice will be issued.
Voucher code will be valid through December 2022. Standard UK delivery included. Offer valid only for product described, incremental cost for additional pages or upgrades. Offer cannot be used in conjunction with other offers. No extensions granted for this offer. Photobox does not offer refunds or cash for vouchers. For issues with codes, contact Customer Service https://photobox-en.custhelp.com/. General Photobox terms and conditions apply.
FREE Florida Big Deal Card
With Selected 2019 & 2020 Theme Park Tickets
The Big Deal Card gives you massive savings on dining, shopping and activities at over 100 different venues in Florida!
One card is valid for up to 4 people, so you will receive 1 Big Deal Card per 4 people booked.
Book any of the following tickets to qualify for this offer:
Enjoy 3 parks for the price of 2 on Universal Orlando Explorer Tickets
Valid for 2019 and 2020 visits
Why get a Universal Orlando 2-Park Explorer ticket when the 3-Park Explorer ticket is the same price?
See Universal Studios Florida, Universal's Islands of Adventure and the newly-opened water theme park Volcano Bay, all in one ticket, with unlimited entries over 14 days! Plus don't forget our tickets include access to the Wizarding World of Harry Potter!
Book Universal Orlando Tickets
3 Parks For 2: SeaWorld, Aquatica & Busch Gardens
Get 14 days' access to 3 SeaWorld parks - SeaWorld, Busch Gardens and Aquatica - for the price of two! Ride hypercoaster Mako at SeaWorld, the massive drop tower Falcon's Fury at Busch Gardens and the freefall drop-slide of Ihu's Breakaway Falls at Aquatica. PLUS FREE Parking!
Valid for 2019 & 2020 visits
FREE Parking with our SeaWorld Park tickets
Valid for 2019 & 2020 visits
When you buy any of the below tickets, you won't have to worry about any extra parking because it's all free! If you just turned up to SeaWorld, parking would cost you $18. With our tickets, it's free any time!
Book any of the following tickets and parking is FREE at SeaWorld, Aquatica and Busch Gardens!
SeaWorld 3 Parks for 2 ticket
Discovery Cove Ultimate Package
Ultimate Florida Combo
Orlando FlexiTicket (6 Park)
Disney and SeaWorld Combo (9 Park)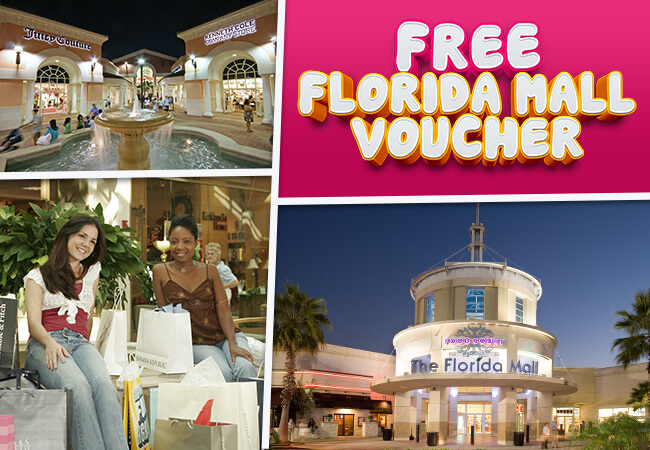 FREE Florida Mall vouchers
FREE Florida Mall Savings Vouchers
Valid for 2019 & 2020 visits
Save $$$s on shopping and dining at any SIMON shopping destination including the Florida Mall! With every booking you'll receive a voucher that entitles you to all kinds of special offers and discounts.
One voucher per booking